SUBDUED HIRING INTENTIONS FOR THE FIRST QUARTER OF 2021
Prague, 8 December 2020 – Czech employers report cautious hiring plans for the January to March period with a Net Employment Outlook of +1%, declining by 2 percentage points when compared with the previous quarter and by 4 percentage points year-over-year.
"The rise in unemployment during the pandemic was relatively minor compared to expectations; however, that doesn´t mean the labour market has not undergone changes. The movement of employees in some fields has come to a halt. In particular in manufacturing where governmental employment protection scheme meant almost all production workers kept their jobs. That has led to serious issues for employers who need more staff as workers in these industries are unwilling to change employment and there are almost no available candidates for work in manufacturing.
On the other hand, the most redundancies were observed in gastronomy, hospitality and tourism. According to our current survey, 28 % of companies in these sectors will keep laying off. People who were made redundant most often look for a new job in services, logistics or admin. They apply in large numbers to positions such as receptionist, admin support worker, sales person or customer service. However, they are not interested in working in production; therefore, they are not part of the solution for manufacturing companies," said Jaroslava Rezlerová, Managing Director of ManpowerGroup Czech Republic.
Industry sector comparisons
Employers in the seven Czech industry sectors report mixed hiring plans for the first quarter of 2021. Workforce gains are forecast in four sectors, while employers in three sectors expect to trim payrolls. Hiring sentiment weakens in four sectors when compared with the previous quarter and declines in six sectors year-over-year. The strongest sector hiring intentions are reported in two sectors with Outlooks standing at +8%. In the first of these, Construction sector employers report a quarter-over-quarter improvement of 5 percentage points, but hiring plans are 8 percentage points weaker when compared with this time one year ago. Other Services sector employers also report an Outlook of +8%, improving by 4 percentage points in comparison with both the prior quarter and the first quarter of 2020. Employers in the Restaurants & Hotels sector anticipate the weakest sector hiring pace. Standing at -23%, the sector's Outlook declines sharply both quarter-over-quarter and year-over-year, by 29 and 31 percentage points, respectively. Wholesale & Retail Trade sector employers (-3%) report the weakest hiring sentiment in more than six years, declining by 3 and 7 percentage points from 4Q 2020 and 1Q 2020, respectively.
Regional comparisons
In a comparison of the three Czech Republic regions, workforce gains are expected in one region, while employers in one region expect a decline in payrolls. Hiring prospects improve in one region when compared with the previous quarter, but weaken in two regions when compared with the first quarter of 2020. The strongest regional hiring pace is anticipated by employers in Bohemia, where the Outlook of +5% is unchanged in comparison with the prior quarter and remains relatively stable when compared with the same period last year. Reporting an Outlook of -5%, Moravia's employers anticipate the weakest labor market in 11 years during the coming quarter. The Outlook declines by 7 and 12 percentage points from 4Q 2020 and 1Q 2020, respectively.
Organization Size Comparisons
Job gains are expected by Large employers (+8%) during the forthcoming quarter, but employers in the remaining three organization size categories expect payrolls to decline, most notably in the Micro size category (-5%).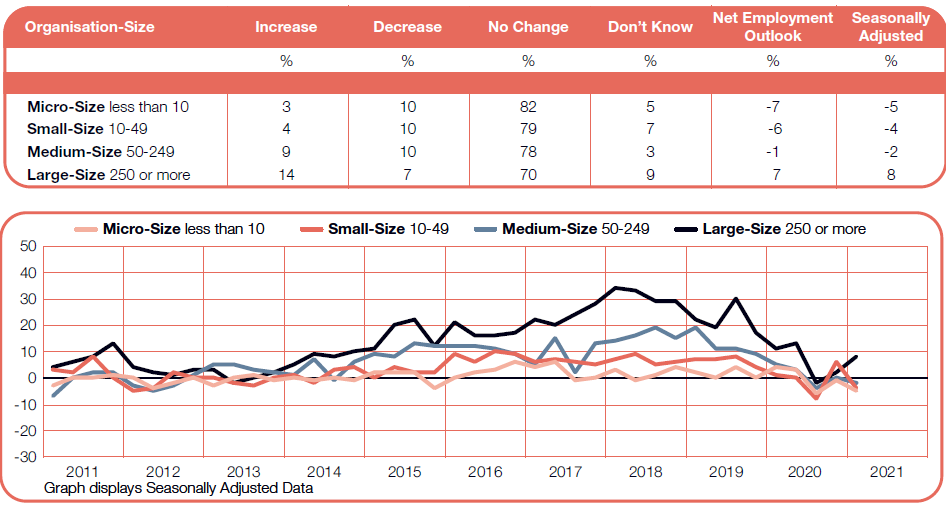 Global Overview
Employers in 22 of the 43 countries and territories surveyed by ManpowerGroup expect to add to payrolls in the period up to the end of December 2020. In 16 countries and territories employers expect to reduce payrolls, while flat hiring activity is forecast in five. When compared with the third quarter of 2020, hiring prospects improve in 37 countries and territories, but weaken in five, with no change reported in one. Employers in 41 countries and territories report weaker hiring plans when compared with this time one year ago, with no change in one and an improvement in one – Turkey. The strongest labor markets are expected in Taiwan, the United States, Turkey, Japan and Greece, while the weakest hiring intentions are reported in Panama, Costa Rica, South Africa, Colombia and the UK.
The next ManpowerGroup Employment Outlook Survey featuring the forecast for the 2Q 2021 period will be published on 9 March 2021.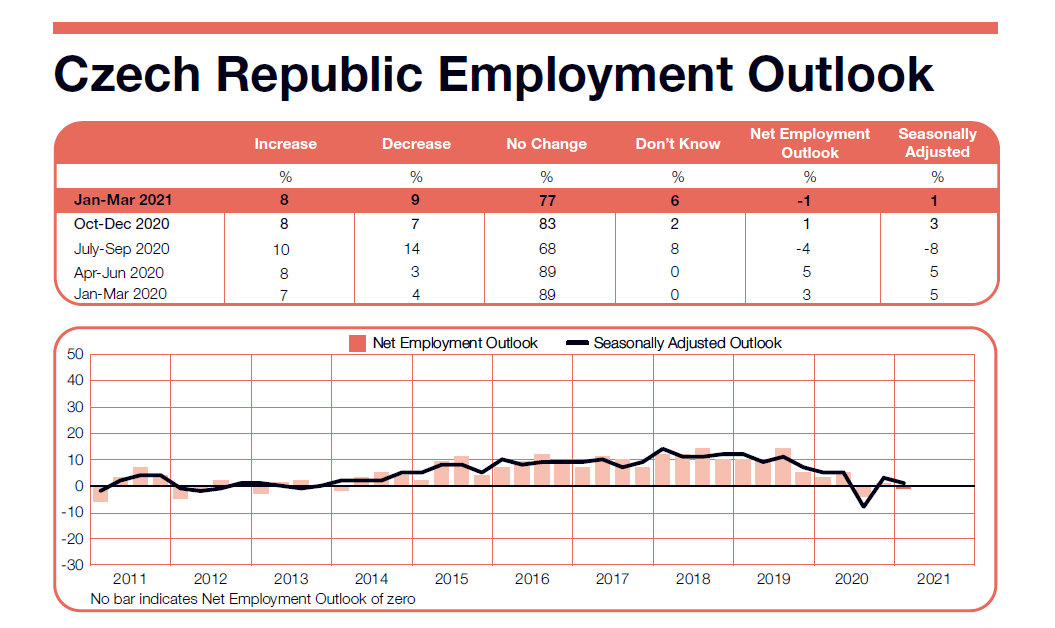 About the Survey
The global leader in innovative workforce solutions, ManpowerGroup releases the ManpowerGroup Employment Outlook Survey quarterly to measure employers' intentions to increase or decrease the number of employees in their workforce during the next quarter. It is the longest running, most extensive, forward-looking employment survey in the world, polling over 59,000 employers in 44 countries and territories. The survey serves as a bellwether of labor market trends and activities and is regularly used to inform the Bank of England's Inflation Reports, as well as a regular data source for the European Commission, informing its EU Employment Situation and Social Outlook report the Monthly Monitor. ManpowerGroup's independent survey data is also sourced by financial analysts and economists around the world to help determine where labor markets are headed.
About ManpowerGroup™
ManpowerGroup® (NYSE: MAN), the leading global workforce solutions company, helps organizations transform in a fast-changing world of work by sourcing, assessing, developing and managing the talent that enables them to win. We develop innovative solutions for hundreds of thousands of organizations every year, providing them with skilled talent while finding meaningful, sustainable employment for millions of people across a wide range of industries and skills. Our expert family of brands – Manpower®, Experis®, Right Management® and ManpowerGroup® Solutions – creates substantially more value for candidates and clients across 80 countries and territories and has done so for 70 years. In 2019, ManpowerGroup was named one of Fortune's Most Admired Companies for the seventeenth year and one of the World's Most Ethical Companies for the ninth year in 2018, confirming our position as the most trusted and admired brand in the industry. See how ManpowerGroup is powering the future of work: www.manpowergroup.com.
About ManpowerGroup Czech Republic
Through a network of over 35 offices, we provide staff (nearly 12,000) for approximately 1,200 clients. With employment opportunities in the public and private sector, on both a permanent and temporary basis, we make it easy for people to find employment and for companies to find staff with the skills they need. Solutions include permanent and temporary positions, holiday, maternity or sick coverage, through to large workforce transformation and outsourcing contracts.
More information available on www.manpowergroup.cz
Download Documents