Nearly a third of companies think that within three months their hiring plans will be the same as before the epidemic
ManpowerGroup Czech Republic published results of the "ManpowerGroup Employment Outlook" survey for the third quarter 2020 which included two additional questions on the impact of COVID-10 epidemic on businesses and their hiring activities in the future.
The ManpowerGroup Employment Outlook Survey for the third quarter 2020 was conducted by interviewing a representative sample of 556 employers in the Czech Republic. All survey participants were asked, "How were your standard business activities affected by the COVID-19 epidemic?" and "When do you expect your hiring plans to return to original level?"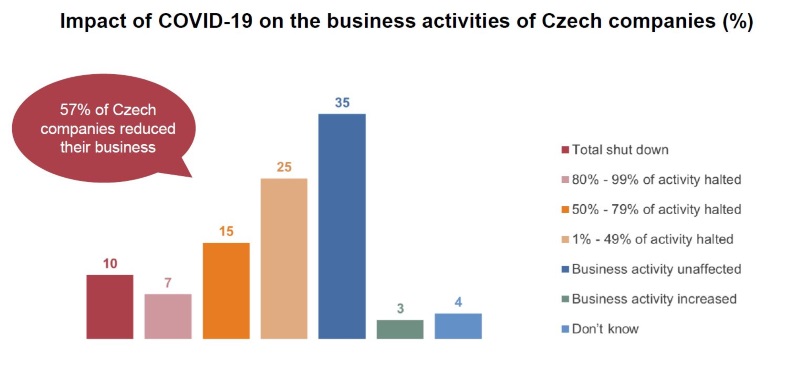 57 % of companies were negatively affected
3 % of companies were positively affected
The sector Restaurants and Hotels was affected worst of all (92 % companies in this sector had to reduce their operation)
31 % think that their hiring plans will return to their original level within three months
19 % think that their hiring plans will never return to the level as before
COVID-19 epidemic negatively affected 57 % of Czech companies, 10 % of which had to close their operations completely. 35 % of companies did not experience any changes in business activities and 3 % have even improved.
In international comparison the epidemic impact on the Czech business is similar to the one in for example Germany or Slovakia. It did not significantly differ from global average, where 63 % of companies report negative effect of the epidemic on their business.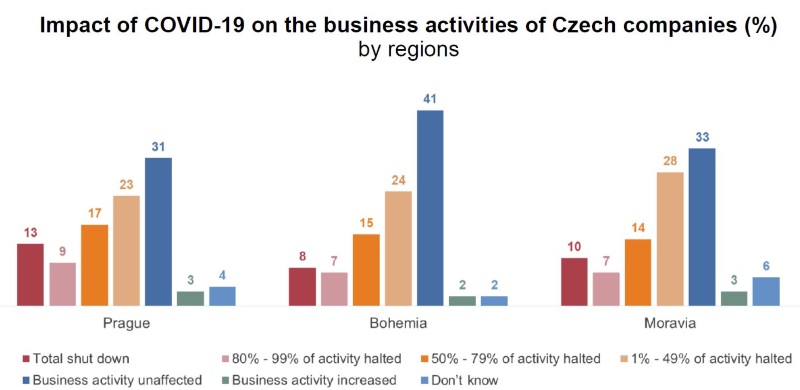 In the Czech Republic, the small size companies with up to 50 employees are hardest hit and Prague is the most negatively affected of the three regions.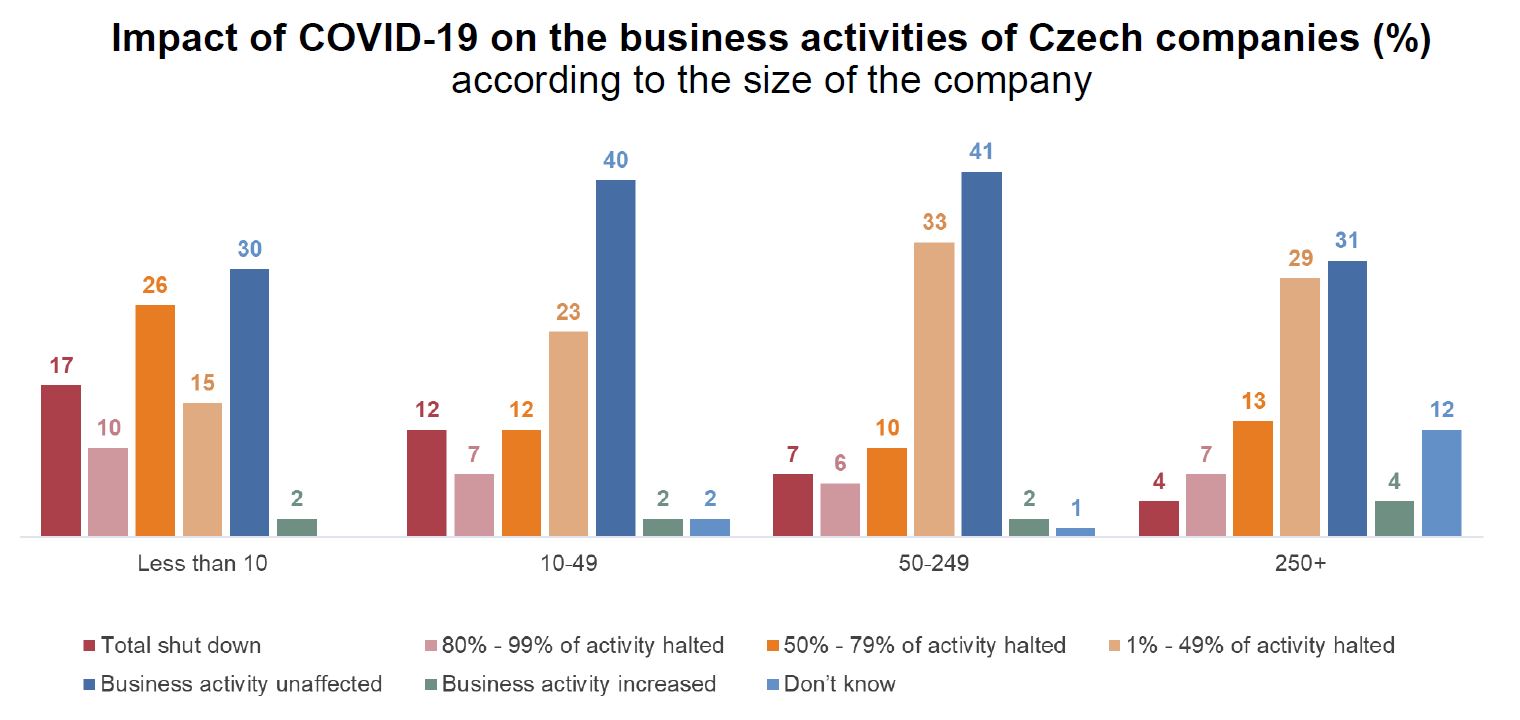 The sector Restaurants and Hotels is by far worst affected, where 53 % of companies had to close completely and 92 % had to reduce their operations to some extent. The most important employer sector – Manufacturing – very uniquely achieved a 100 % closure of operations. Still, some partial operation always remained, such as expedition of existing orders or maintenance, etc. However, 30 % of employers in this sector reduced their operation by more than 50 %.
"The pandemic had impact on many sectors and industries. Even the most conservative employers had to review their habits. Anybody who so far objected to new technologies, home office status, online functioning, virtual meetings and contactless transactions, had to quickly reconsider. Shops, restaurants, and administrative services moved to online space. With the end of the emergency state and gradual loosening of the restrictions, people will slowly return to their good old habits, but some people will want to keep the comfort of remote access from home even in the so-called "new normal", said Jaroslava Rezlerová, CEO of ManpowerGroup Czech Republic.
56 % of companies think that their hiring activities will return to original level within one year. 19% of companies assume that the hiring plans will never return to their original level.
In terms of returning to hiring intensity to the level before the epidemic, the Czech Republic is slightly more optimistic than the global average. 56 % of companies believe to return to original level of hiring activities within 12 months: 31% within three months, 18 % within 4-9 months and 7 % within 10-12 months.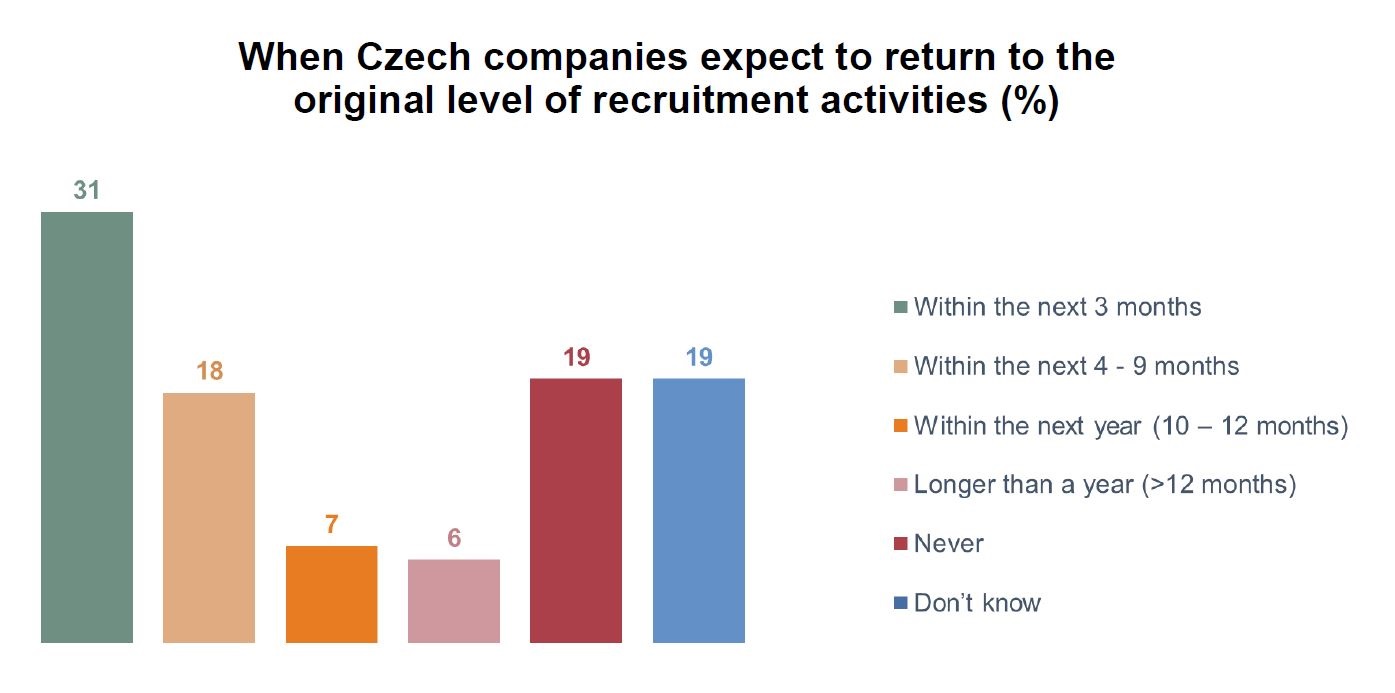 "The employers will have better choice for labour and administrative positions, but even high unemployment will not solve the problem with the shortage of skilled craftsmen, technicians, mechanics, doctors or programmers. The epidemic is likely to accelerate changes in the economy which were already revolutionary as a result of digitisation and robotic automation. The need of rapid training and retraining of a large number of people will become even more urgent after the epidemic," said Jaroslava Rezlerová, CEO of ManpowerGroup Czech Republic.
About ManpowerGroup
ManpowerGroup™ (NYSE: MAN) has been a world leader in providing innovative services and tailored solutions that cover the full employee's life cycle and help its clients achieve their goals and increase their competitiveness for nearly 70 years. The ManpowerGroup, operating under the Experis™, Manpower®, ManpowerGroup™ Solutions and Right Management®, helps 400,000 clients in 80 countries and territories improve the performance of their workers and provide more than 600,000 applicants with adequate work. ManpowerGroup was named one of the world's most ethical companies for the 11th time in 2020, strengthening its position as the most trusted company in its field.
For more information on how ManpowerGroup can help you succeed, see www.manpowergroup.com.
ManpowerGroup in the Czech Republic
In the Czech Republic, ManpowerGroup takes care of the monthly personnel and payroll agenda for the nearly 12,000 employees it has recruited and placed with its clients. In 2019, thanks to its network of 35 branches, ManpowerGroup found 24,000 new employees for 1200 clients.
For more information about ManpowerGroup, please visit www.manpowergroup.cz.
Download Documents